Aqara Camera G2H/G2H Pro Smart Home Gateway Aqara Hub Connect Zigbee3.0 WIFI 2.4 Ghz
【The Most Complete HomeKit Support & Two-way Audio】 Connect your Aqara Indoor Camera G2H Pro to Apple HomeKit Secure Video, which can prevent hackers from stealing your data and protect your privacy at home. The G2H Pro supports face and package recognition and notifications that are processed locally on your HomeKit hub. You can speak with your family using two-way audio while viewing real-time video images remotely. (*Note: Power adapter is not included.)

【1080p HD & Night Vision】1080p Full HD recording with 146° wide-angle lens offers you stable and smooth video day or night. It will notify you via smartphone and built-in siren, and record a short clip in case of an abnormal sound or motion being detected. The short clip will be sent to the cloud immediately(no subscription or monthly fees required), while the full footage will be recorded locally.

【Smart Local Control Center】The Camera G2H Pro can also work as a Zigbee 3.0 hub, which can connect up to 128 Aqara Zigbee child-devices and allow for seamless integration across Aqara's sensors and home automation devices. With the G2H Pro, when your Aqara sensors are triggered by an event such as opening the door, it will be marked on the video timeline, and you will be able to see video notifications. HomeKit, Alexa, Google Assistant, and IFTTT are supported.

【Multiple Storage Methods & WPA3 Wi-Fi】Apart from iCloud (50 GB or more iCloud Subscription is required) and micro SD card (up to 512 GB, not included) storage methods, the G2H Pro also supports local NAS storage that uses the Samba protocol. Please note: to use NAS storage, a supported micro SD card as well as SMB1.0-compatible software are required. 2.4 gigahertz Wi-Fi network connection is required and 5 GHz Wi-Fi is not supported.

【We Care About Your Privacy】 The G2H Pro has a local software masking function, which can prevent certain parts of the image from being recorded or sent to third-party servers. Besides, the data streams from the camera are encrypted and the latest Wi-Fi security standard WPA3 is supported to further protect your data. Moreover, by setting the configurable activity zones, unnecessary alerts can be reduced.
Model: G2H
Input Power: 5V 1A
Viewing Angle: 140 Wide-Angle
Video Resolution: 1080P
Wireless Connection: Zigbee 3.0
Local Storage : MircoSD card (Class 4 or above is supported , Up to 32Gb Storage ) Memory Card Is Not include Inside The box
Model: G2H Pro
Input Power: 5V 1A
Viewing Angle: 146 Wide-Angle
Video Resolution: 2MP 1920X1080p
Wireless Connection: Zigbee 3.0 IEEE 802.15.4, Wi-Fi IEEE 802.11 b/g/n 2.4 GHz
Local Storage:MicroSD card (not included). CLASS 4 or above is supported, up to 512 GB storage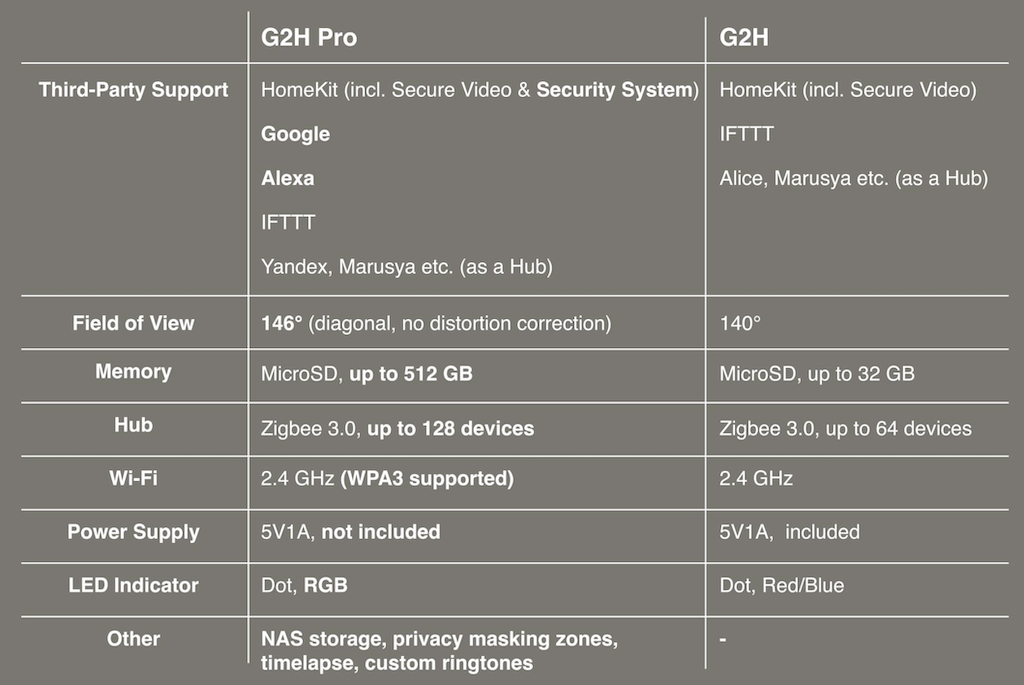 ---